AGENCE
Track-b is an agency who tells business adventures and invents stories made for screen media.
Track-b is an audiovisual agency founded by Quentin Lepoutre. It is organized in two production units : Corporate and Original.
Corporate starts in 2003, Track-b and his partners network produce audiovisual content for brands that wish to take the floor. Digital, event, motion design. Track-b supports its customers during fifteen years to get their message accross, their identity, to create tailor-made films for their teams or their target market.
Since 2011, Track-b took some liberties : we tell the story. No whim, but fictions. Short and long films, webseries, documentary. In short, once uppon a time track-Original… Tracking, casting, shooting are human experiences. Conception, writing, making of ? A laboratory of ideas. Scenarios that we pamper, sometimes that we torture.
Quentin Lepoutre Fondateur
"De TF1 à Cassavetes... "
12 years old, a few sparkles in my eyes, i'm listening to my french teacher talking about David Lean, about cutting, Zeffirelli and opera. A that time, Roubaix's video clubs, media library and the Méliès (cinema in Roubaix) are my second home… A few movies later, with the rise of ARTE and original soundtrack films (rings any bell?), I started replacing Superman by Kieslowski, Belmondo by Egoyan et TF1 by Cassavetes…

Since I'm 21, a camera on the shoulder and an audiovisual media certificate in my back-pocket, I managed movie mounting missions, photography supervising, making-of. From a hidden camera in Pigalle to the bitrh of twins by Ceasarean… 15 years of experience… In 2013, the idea of Track-b took root.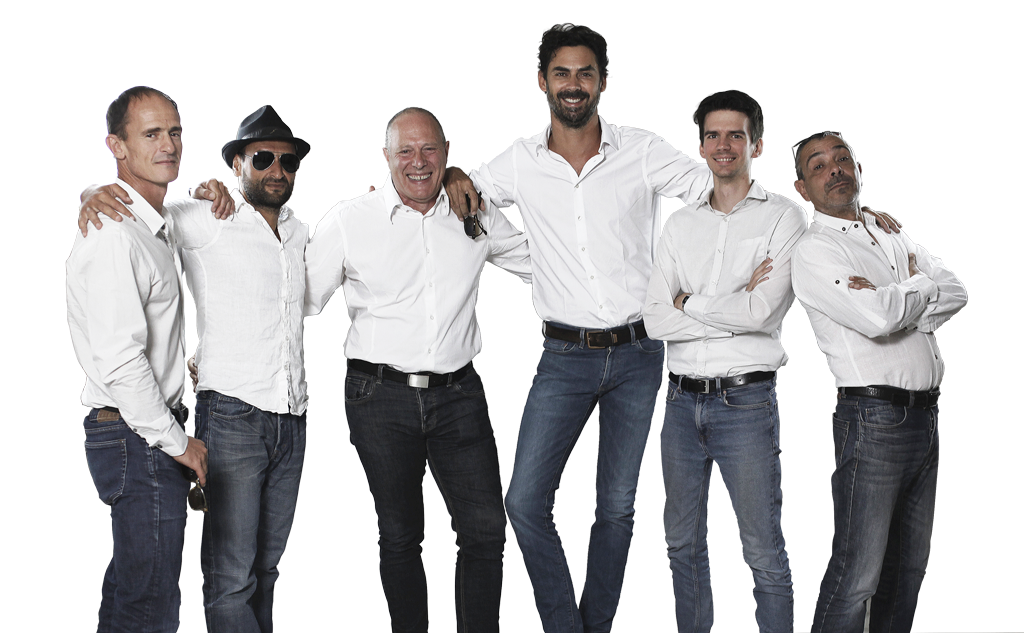 From left to right:
Olivier Ripoll - consulting - photography, Hamid Saadia - Post-production / 2D, Thierry Dechilly - Directeur de production corporate/event, Quentin Lepoutre - fondateur Track-b, Arthur Laloux - Contenus web, Patrick Puzenat - Directeur de production pub/média. And the absent big guy of the picture Robin Plomb - Tournage montage / Corporate & Fiction !
Et our faithful freelances...
Justine Bourgade - Image/lumière,
Stéphane Medez - Etalonneur,
Vincent Busnel - Monteur,
Delphine de Blic - réalisatrice/auteur,
Houda Lambarki - Motion Design,
Antoine Hivet - DA Motion Design,
Lilan Hoouel - Monteur,
Raphaël Iscan - Monteur,
Roland Taft - Chef op
They trust us
(Et we thank them !)